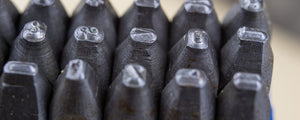 Create one of a kind jewelry
Limitless Possibilities
Free domestic Shipping on orders over $75.00
Welcome to Bopper Metal Supply
Happy holidays!!!
Holiday Schedule:
Closed: December 8th-January 8th
Merry Christmas and Happy Holidays to all of our wonderful customers! Vince and I want to take a moment to thank you for your continued support of our small business and thank you so much for being such loyal customers throughout the years. It is wonderful getting to know all of you. We are sorry for the long hiatus at the end of the year, but we will be taking a full month off to move our shop to our new location! :) Please plan ahead!
Please plan ahead and get your orders in early as we will not be processing orders on these dates.
NEW: CHECK OUT OUR NEW "SALE ITEMS" TAB - WE WILL BE ADDING NEW ITEMS TO THE TAB DAILY. CLICK THE LINK BELOW:
https://boppermetalsupply.com/collections/sale-items
***INCLUDING GOLD FILLED & STERLING SILVER CLOSEOUT***
DID YOU KNOW:
We offer a hole punching option in two hole sizes. Our standard hole size of 3/32" and our larger hole size of 5/32". There is a fee for this service of $.75 per package. Here is the link if you are interested:
https://boppermetalsupply.com/products/hole-punching-service
INVENTORY REDUCTION SALE:
Vince and I are revamping our Etsy site and are running a huge inventory reduction sale here and on our Etsy site. The discounts are taken off automatically at check out. If you have not taken a look at our Sale Items you're missing out. All ImpressArt items are at least 30% off, many of our stamping blanks are 55% - 75% off. New items are added to our sale each month.
All sales are final - no exchanges, refunds or returns will be accepted on sale items. Sale items available while overstock inventory supplies last.
***WE ARE HAPPY TO COMBINE ORDERS AND REFUND SHIPPING WHEN YOU PURCHASE HERE AND ON ETSY.
*************
For years, Bopper Metal Supply has been one of the leading suppliers of metal blanks.  Our blanks are used for embossing, enameling, engraving, etching, hand stamping and hammering.  We have more than 55,000 5 Star Reviews on Etsy over 188,500 sales.
Please take a moment to leave a review for your items by clicking on the link in your email order confirmation.
Thank you kindly,
Vince and Beverly